Branding is hard. If it was easy, all brands would be brilliant.
Tinfish is (mostly)* Janet Clesse Hager.
For more than 25 years, Janet Clesse Hager has been helping companies nationwide build better brands. She brings a broad spectrum of knowledge and experience to her work building brands. She laid down the foundational underpinnings at Cornell University, earning a Bachelor's in Communication; the program focused on the psychology of communication and human perception. She cut her teeth in New York, Boston, and San Francisco working in marketing and design for a wide variety of companies — a nuclear waste facility, a trade publisher, an educational publisher, a big five accounting firm (when there were five), a public utility, and an advertising agency, among other places — before starting Tinfish Initiatives in 2001. She excels at taking in large amounts of seemingly disparate information, and distilling it all down into a solid strategy or brand identity.
Janet is a dynamic and engaging speaker. She taught marketing at the Art Institute of Portland and presents regularly at conferences and workshops about branding.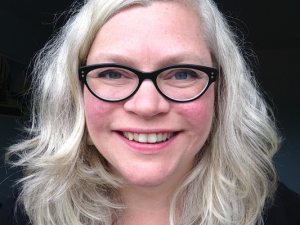 Janet grew up in Buffalo, NY and she firmly believes that professional hockey should only be played in cities that get actual snow on a yearly basis. Her parents tricked her into attending Cornell (thankfully). She was a Boston driver before she moved to Boston, but living there made her a better Boston driver. She is a steadfast supporter of the zipper merge. Her instrument of choice until the age of 20 was the trumpet, but now she aspires to learn to play the drums and the hand pan. She writes haiku on a regular basis and believes in the power of creative thinking to set people free. All of which means she draws on a broad base of knowledge to do the voodoo that she does so well: build better brands.
* The bulk of what gets done at Tinfish is done by Janet. But no one knows everything (not even her!) and so she partners with experts when appropriate.
Want to talk with us about brand strategy for your business?
We're always happy to talk with people, just to hear about what you're up to, brainstorm about how you might move your brand forward, and see if it would be a good fit for us to work together.